Our celebration continues, and this time we're handing out something for little hands - the tag*a*long!
We've been selling the
tag*a*long
for awhile, and we are very pleased with the product, as are our customers!
The tag*a*long makes it easy for toddlers to feel independent while still staying close to an adult. Designed to easily attach to a shopping cart, stroller, purse, or just about anything, the
tag*a*long
makes it fun for your toddler to stick close, while giving you the peace of mind that your child is close by, within reach, and out of trouble. With a lower price point than many leashes, tethers, or other devices designed to keep your child close, the tag*a*long is a great product for every mom of toddlers!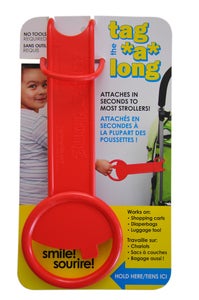 And of course... our birthday celebration wouldn't be complete if you didn't have an opportunity to win one!
a Rafflecopter giveaway