Wraps are quickly becoming a popular item among Moms - both new and old. When my son was born in 2009, I had never heard of a wrap. Now, almost every registry includes the
Moby
,
Sleepy
,
K'Tan
, or some other wrap. I first learned of the Moby in a mom's group I was a part of. Someone commented that she had found one at a boutique and her baby was absolutely in love. She brought it to the group and let us all take a look and I fell in love. I went out the next day and bought one for my son and I.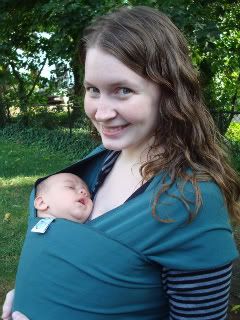 We both were so pleased with the Moby. I loved being able to hold him close and still have both hands free, he loved being snuggled against me, able to sleep, or breastfeed, or just about anything while all nice and warm and snuggly with his mama. We used the Moby until he got to heavy, and then switched to woven wraps and some soft structured carriers like the
Boba
. In my heart though, I was always a wrapper. The Moby introduced me to a world of babywearing I would have never otherwise discovered, and I couldn't be happier about it. Because of my new-found love for the Moby (and wraps in general), the Moby Wrap quickly became, and has remained, my go-to shower gift for friends and family. My Moby has gone out on loan a few times, and also came out of hiding when my daughter was born!
Is there a learning curve with wraps? Yes. Of course there is. But once you learn to correctly wrap your baby there is a World of possibilities and comfort waiting for you! This week, get yourself (or a friend!) a
Moby Wrap
for 10% off!